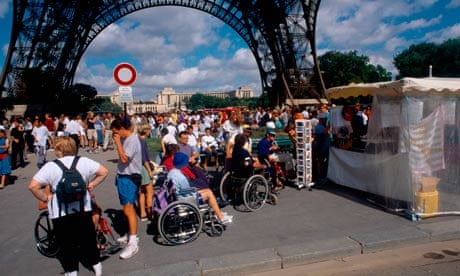 For people with a disability, traveling alone can be burdensome in many ways. Especially if your recent travels only include short trips to someplace nearby with your loved ones always there to support you and care for you!
However, traveling alone needn't be stressful if you do the right things from the start. In fact, you could easily get hooked on to traveling all by yourself if your first trip goes glitch-free.
Here are some tips to help you have a happy journey.
Plan in Advance
All trips need to be planned well and in advance so that they turn out to be pleasant and memorable. And if you have a disability, you can certainly not leave things to chance.
Depending on your mode of travel, you'll need to book tickets early and you'll also need to make hotel reservations in advance. You don't want to be left stranded upon reaching your destination.
By planning everything to the T, you'll be able to savor each and every moment of your trip.
Research Well
You'll have to research all about your destination. And this does not mean you simply look up the Internet to make a list of all the points of interest. You also need to know if the places you want to go to are easily accessible.
This applies to the place where you'll be staying at too. Whether you're going to stay with someone you know, or you're going to stay at a hotel, you need to be sure that you won't have to face any difficulties there.
You'll also need to find out where the nearest medical facility, pharmacy, or health center is. Also make a note of health centers that are nearest to the places you plan to visit.
Book Tickets Wisely
If you have to travel by air, remember that not all airlines treat people with a disability in the same way. Some airlines may not be that good when it comes to making things stress-free for people with special needs.
You might want to read online reviews and take a decision. You can also ask other people with a disability who you know and have traveled by air for their opinion.
Furthermore, consider what works best for you- a long flight or short inter-connecting flights. Be sure to give yourself at least 90 minutes between flights and longer if you need to clear customs and immigration.
Also, book your seat keeping in mind your health limitations. If you'll need assistance or need to use the toilet frequently, it would be advisable to not book a window seat. Consider booking the seat right next to the aisle or a bulkhead seat, which is the first row in a section.
Clarify Things Beforehand
It may seem unnecessary to ask if you'll be provided assistance in-flight for particular needs or if your Pride Go Go Scooter will be permitted through the security checkpoint, but you should clarify everything before you embark on your journey.
Ensure that you'll be escorted to and from the airport at all times. Also call up the hotel reception desk and make sure they have everything you might need. If calling up airline customer support to clarify doubts, ask for a reference number of the call and note it down. You might also want to note down the representative's name so that if any problem arises later on, you can refer to these details.
When explaining your health conditions, be sure to use simple words. Not everyone can understand medical jargon!
Pack All That's Necessary
Apart from the basics, don't forget to pack all the extras that you can't do without. At the same time, don't over-pack and include items that you won't need at all. For example, you don't need to carry a hair-dryer if the hotel you're staying at provides one.
Don't forget to pack your medicines. Pack enough medicines so that they last you for the whole of your stay. And do throw in some extras too. You never know when you might need them! After all, you can't say if the medicines you take will be available where you're traveling to.
You might want to pack your medicines in two or more lots and pack them in different bags with one lot always in your handbag. Suppose one of your bags goes missing, you'll always have the medicines in your handbag. And in case you misplace your handbag or if it gets stolen, you'll always have the medicines in your luggage to count on.
Don't forget to carry a copy or two of your prescriptions and medical certificate. You may want to e-mail electronic copies of these documents to yourself. And while you're at it, do the same with your passport, visa, and ID cards too.
Ask for Assistance When Needed
Whether you need assistance in going to the toilet or require your airport cab driver to be familiar with using Pride Lifts, ask for it! Assuming that your needs will be met or won't be met is not going to help you at all.
Further, don't try to do it all by yourself; accept that traveling to a new place will be stressing. Take help when and where needed so that you can enjoy your holiday as much as possible.
Conclusion
Traveling with a disability may seem to be a strenuous task, but it can be managed easily if a few things are kept in mind.
With the tips given here, you are sure to have a happy trip to your destination and back home!
Would you like to comment?